Finding a Corrugated Pipe Production Line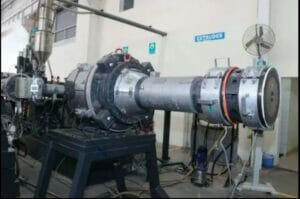 If you are a manufacturer looking to upgrade your current corrugated pipe production line, or to expand into that side of the industry, then you need to do your research. Purchasing a corrugated pipe production line is a lengthy process that takes time, expertise, and the right manufacturer. Before you buy a corrugated pipe, first it helps to understand what this machine is, how to use it, and the features to be aware of. Then, you'll be on your way to purchasing the best corrugated pipe production line on the market.
What is a Corrugated Pipe Production Line?
Corrugated pipes are used in building foundations to carry rainwater formed on streets. These pipes are made to be flexible, so they can bend during earthquakes and other natural occurrences. A corrugated pipe has ridges and grooves that run parallel to each other on its surface. The grooves and ridges follow a pattern that is perpendicular to the centerline and bisects it. Various materials are used to make corrugated pipes, including iron, steel, polyvinyl chloride (PVC), or high-density polyethylene (HDPE). Metal alloy corrugated pipes are less common than plastics. 
For storm drains and culverts, corrugated pipes are used where flexibility is more important than strength and durability. Corrugated pipes have a greater range of uses due to their flexibility compared to rigid and non-corrugated pipes. These pipes are crucial pieces in infrastructure due to their water draining capabilities. Without proper water drainage, flooding and erosion pose big risks for existing buildings or ongoing construction projects. 
How Does a Corrugated Pipe Production Line Work?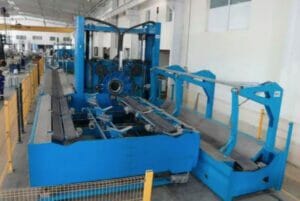 Corrugated pipe is most commonly made using production line machine setups that take care of the whole process in one swoop. This process usually begins with plastic pellets being melted down to create a blend that will be used for the pipe. The 3 primary types of pellets used are
Plain pellets, Recycled pellets, and UV-resistant pellets. Once these pellets have been both liquified and mixed, the new semi-liquid plastic is transferred to an extruder, which injects the plastic into a mold where the liquified pellets will take the shape of the pipe. This is done using vacuum pressure to ensure that the resin is evenly distributed across the mold. 
Now that the pipe has been molded, it's time to extract it from the mold. When this is done, built-in cooling systems will harden the plastic and send it through cold water. This helps lock the molds in place. Once the mold has been appropriately cooled, there are just a few steps left. 
Next, the pipe is perforated. Small holes are punched around the circumference of the pipe to help with draining. When the pipe is installed, it is oriented in such a way that the perforated holes allow more water into the pipe, so that all along the pipe's route water is being caught. However, you don't want dirt clogging these holes, so a filter cloth is wrapped around the pipe to keep dirt and mud particles out of the pipe and its perforated holes. 
Once the pipe has been wrapped it should be good to go. The machine can also "stack" the product as well. From there it is up to you to package and ship the product out to your customers.
Corrugated Pipe Production Line Machines Near Me
As you can see, there are a variety of processes involved in the production of corrugated pipe. So, if you're looking for a way to produce this product, a corrugation pipe production line machine will likely be the most efficient and hassle-free way to go about this. Be sure to get in touch with your local industrial equipment providers to find the best deals on production equipment. Many carriers will have high-quality second-hand equipment that you can purchase at a cut-rate with a high degree of reliability. Make sure you do your homework to find the best possible industrial machine supplier to suit your needs.