What is Extrusion?
Extrusion is the process to create objects out of material that is forced through a series of steps.
What is Plastic Extrusion?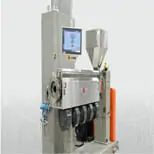 Plastic extrusion is a manufacturing process of melting and re-melting plastic. A thermoplastic material (a form of powder, pellets, or granulates) is melted and then forced through several phases to form the desired shape. The process of using a used plastic extrusion machine offers an efficient, economical, and practical process for producing plastic. Some benefits include:
Fast, efficient, high-volume process
Produces continuous shapes in varying lengths
Minimal waste
Produces large volumes
Used plastic extrusion machines are commonly used to make pipe, tubing, fencing, deck railings, window frames, weatherstripping, plastic films and sheets, and thermoplastic coating.
Types of Used Plastic Extrusion Machines:
Below is a list of the wide variety of used plastic extrusion machines available at PlastiWin.
Rubber Extruder Machines
Rubber extruder machines are used to manufacture rubber products. Rubber extrusion is a continuous process that produces products of a variety of lengths and shapes. Benefits of using a rubber extruder machine include:
Makes lightweight, flexible, durable, and long-lasting products
Relatively cost-effective
Minimal material waste
Efficient and economical manufacturing process
Single Screw Extruder Machines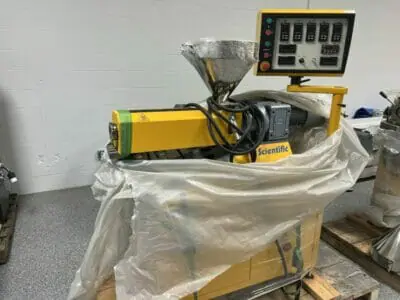 Single screw extruder machines are used to turn plastic into the required shape. The machine heats the raw material until it reaches its melting point, it is then pushed through a die that gives the material its specific shape. This type of machine is best used to make piping such as PVC, PP, HDPE, and different types of water pipes. Using single screw machines to produce piping is cost-effective and quick.
Twin Screw Extruder Machines
Twin-screw extruder machines have 2 intermeshing and rotating screws. This machine is used mostly in polymer, chemical, and food industries to combine products such as adhesives, sealants, mastics, spas/detergents, plastics, and chemicals. Advantages of using a twin-screw extruder machine are:
High efficiency
Self-cleaning
Lower energy use
High-quality compounding ability
Easy material feeding
High-quality exhaust ability
Where to Find Used Plastic Extrusion Machines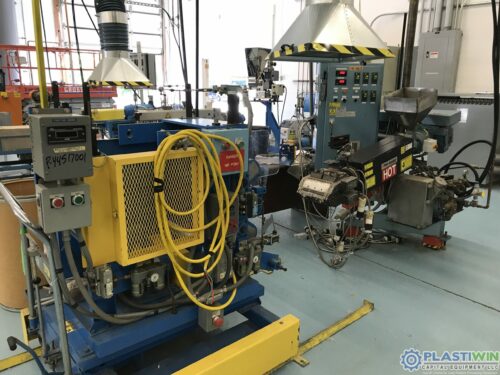 Do you need a used plastic extrusion machine for a plastic extrusion job? Do you have a broken part of a used plastic extrusion machine? PlastiWin has a vast assortment of used extrusion machines and parts for sale.
Their most popular brands for extruders include: American Leistritz Extruder & Twin-screw Extruder, Entek Extruders, Werner & Pfleiderer Extruder & Twin-screw Extruder, Coperion Extruder, Milacron Extruder, and Berstorff Extruder.