Here's Why a Glass Block Shower is a Great Investment for Homeowners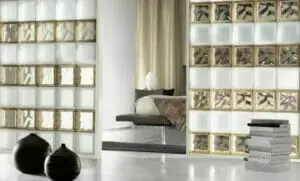 If you've been brainstorming creative ideas for your bathroom, a glass block shower is a great addition. Remodeling a bathroom with a creative touch will significantly increase your home's value, as it enhances the utility and adds a touch of style.
In fact, numbers show that in 2021, a bathroom remodeling project increased home value by nearly 58%. If you're looking to put your home on the market in the near future, the value of a bathroom upgrade through a glass block shower cannot be ignored. If you have been considering adding glass bricks for shower walls, you are making a smart choice. But how does a glass shower get installed? And what can you expect for maintenance costs? Let's take a look at the basics of a glass bricks bathroom.
Installing a Glass Block Shower
In order to get a glass shower in your home, you'll need to connect with a highly-qualified installer. Find an expert glass block manufacturer taht have the skills and knowledge needed to successfully install glass bricks on shower walls, and can help you throughout the planning and design process.
Essentially, glass blocks are used to encase a walk-in shower. The glass blocks are stuck together through a strong mortar, which is a mix of cement and other bonding materials. The mortar will ensure the glass blocks have a strong and lasting connection to each other. 
Before a glass block shower is installed
, you will have the choice of what type of glass block you want to use. Glass blocks are used in a multitude of applications, from windows, to staircases, to gardens. For that reason, there's a variety of styles and colors to choose from. When it comes to shower walls, you'll want glass blocks that distort what is on the other side to maximize privacy. Thankfully, you can get this type of glass shower that is private, but still allows light flow. That way, you can maximize natural light and preserve the privacy of your shower.
The installation time of a glass bricks bathroom will largely depend on the project. If you have a time frame you want to work within, talk to the installation team about your project specifications. 
Maintenance of Glass Bricks for Shower Walls
Once the glass block shower is installed, you'll need to perform regular cleaning to ensure it lasts. Before you clean your glass brick shower walls, waterproof the mortar. This can be done with a waterproofing kit purchased from Amazon or any major hardware store. The waterproofing will ensure the mortar lasts. 
Use a small brush and simple cleaners to
clean the mortar around your glass brick shower.
Cleaners with coloring agents can discolor or diminish the mortar, so stick to the basics. Cleaning will need to be done every few months to keep your glass brick shower shiny and looking like new. In addition, if one of the glass bricks for shower walls chips or breaks, usually you can just replace the single block. That way, you won't need to spend extra money trying to replace the whole shower.
With simple maintenance and cleaning, your glass shower will last for years. 
Get Your Glass Block Shower Installed Today
A glass block shower is a great way to increase your home's value, while also adding a unique design feature to your space. A glass bricks bathroom will allow natural light to flow into your home, while still allotting plenty of privacy. With some routine maintenance and minimal cleaning, you can enjoy this design feature for decades.